NOW, "in demand" on INDIEGOGO: Give'r Frontier Mittens – Best Damn Mittens Ever
Staff, 4 meses ago
0
10 min

read
198
The Give'r Frontier Mittens are all-leather exterior mittens made of premium cowhide, a superior insulation system, and a 100% waterproof (not just resistant or "kinda-sorta"…we're talking 100%!) membrane. They will keep your hands nice and cozy — even in extreme cold.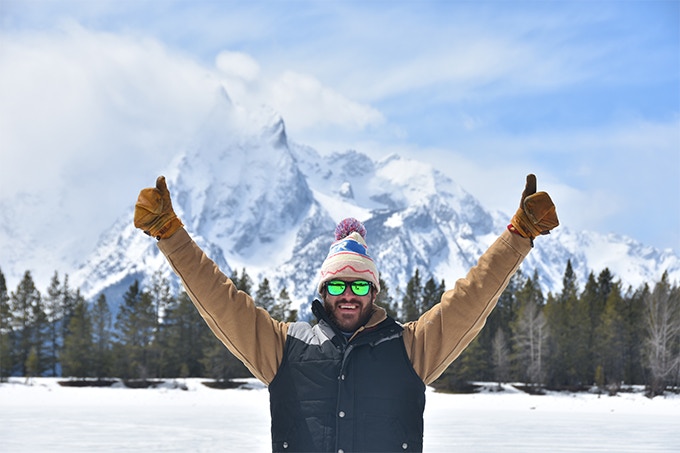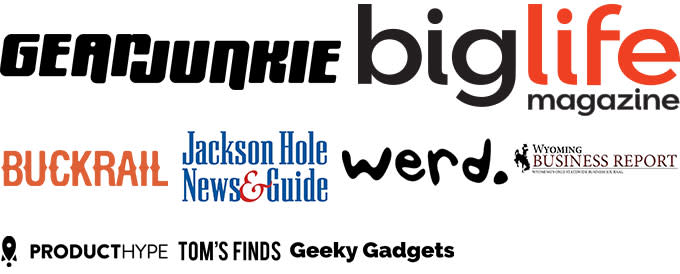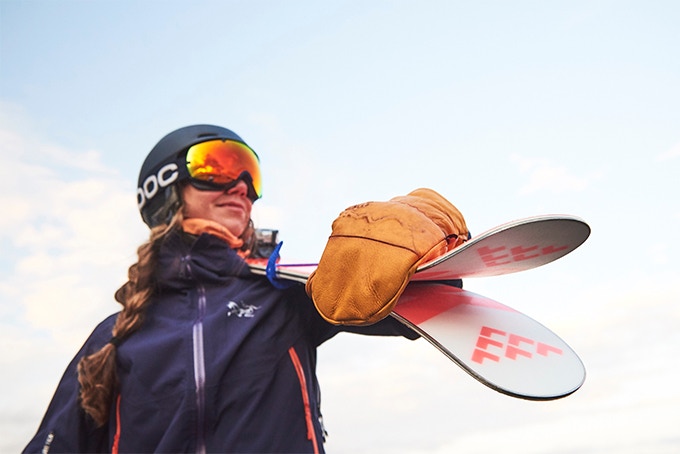 The Frontier Mitten can also be hand-waxed for increased leather longevity and weatherproofing.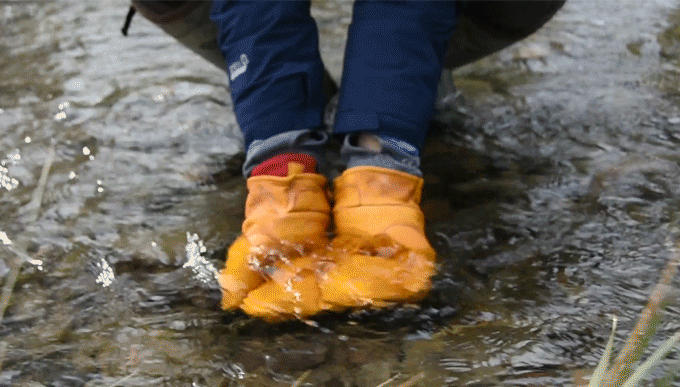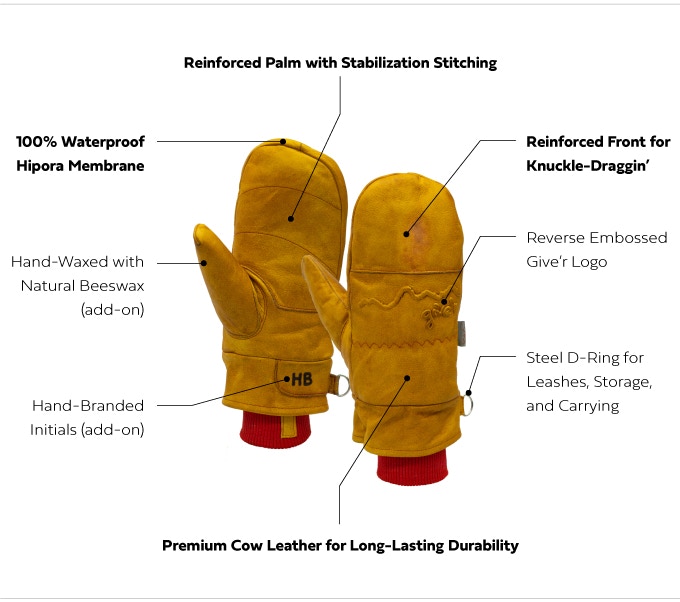 The premium grade A (best quality possible) cow leather is an essential element in the Frontier Mittens and gives them an incredible functional temperature range.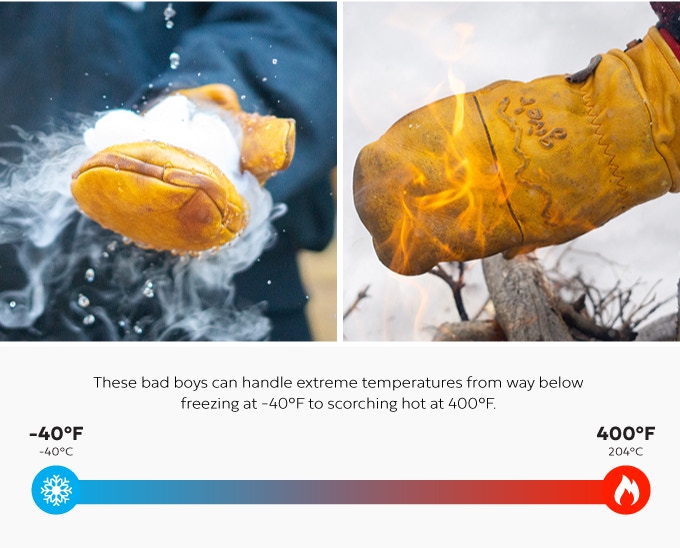 The Frontier Mittens won't fail you. They'll last you a lifetime, so give'r all you got!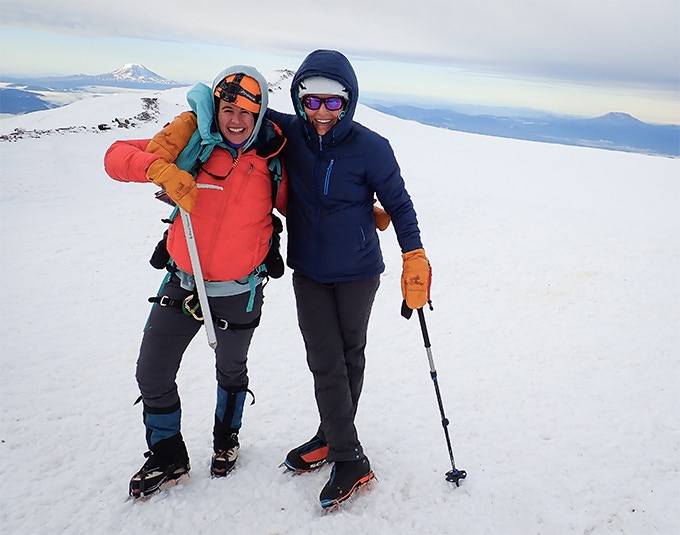 Cold-weather hand accessories is what we do and how we built our name. We're straight out of Jackson Hole, Wyoming — so we know a thing or two about the cold.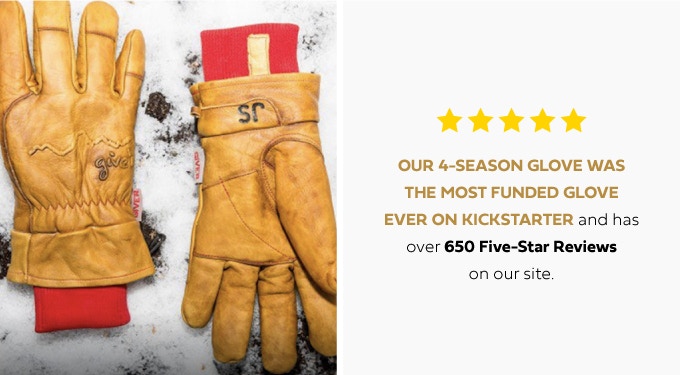 Our customers soon asked us to make a heavy-duty, extreme weather mitten – this is our answer.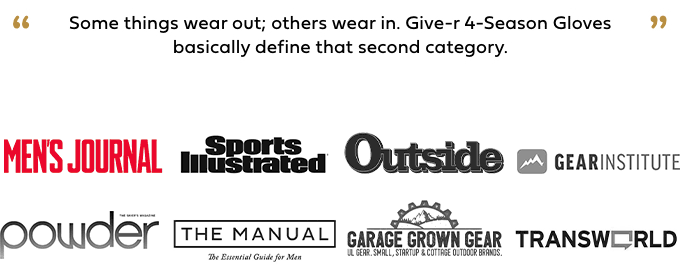 Our mission, as a company, is to empower you to give it your all, no matter your passion. We design innovative products to make this pursuit more accessible and enjoyable. We believe that everyone can Give'r, and the more each of us can honor our unique journeys, the greater the spread of radical positivity in our world.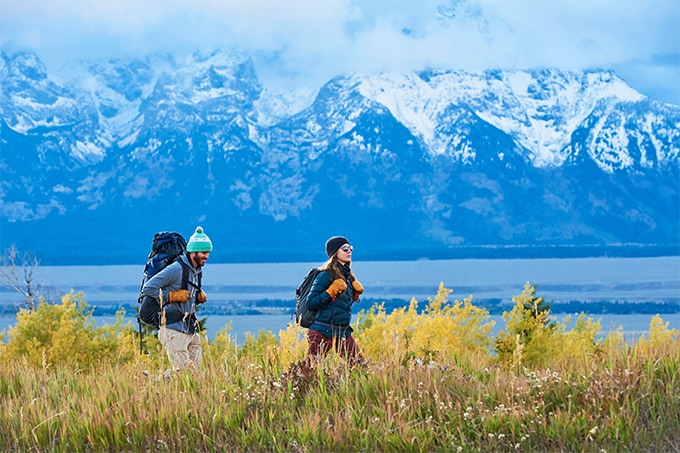 The development and creation of the Frontier Mitten is the manifestation of this mission — the protection, comfort and confidence to explore and expand the frontiers of your outdoor work and play.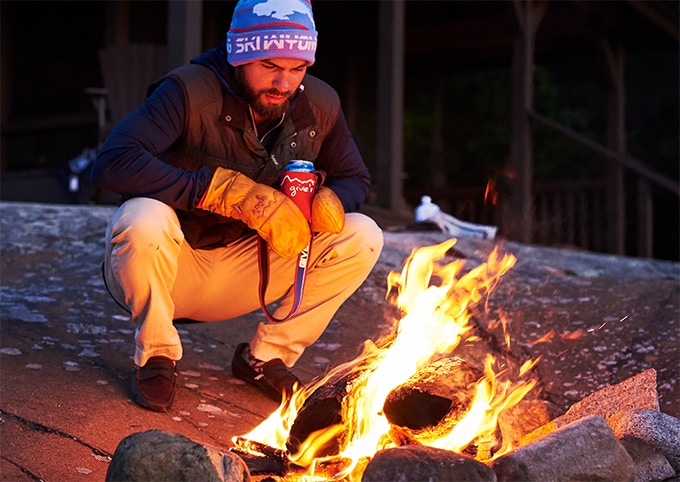 Cold hands, and even the fear of cold hands, is universally understood to be a negative experience. This fear often holds us back. We shy away from possibility and opportunity that exist in our own individual frontiers, outside of our comfort zones.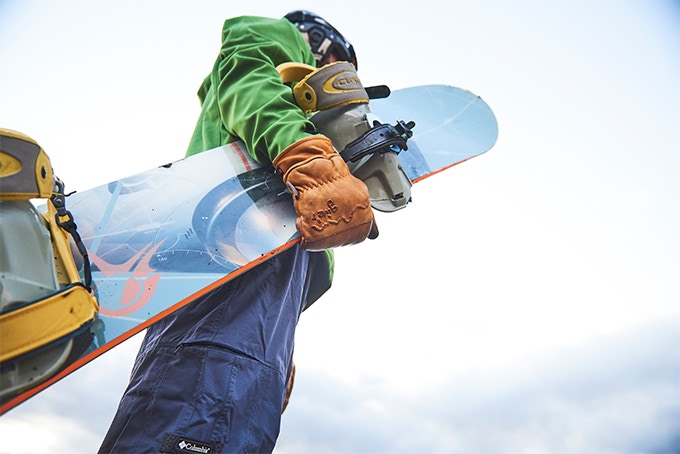 Our roots in the Rocky Mountain frontier country here in Jackson Hole, Wyoming, has us continually stretching our capabilities and challenging what is possible, while learning to ebb and flow with all of Mother Nature's curve balls and extremes.
The Frontier Mitten is the best damn mittens you'll ever get. We're sure of it, with the last two years of testing in JH to prove it. They're meant to add to your arsenal of cold weather gear to get your work done, get your shred in, and give'r your all.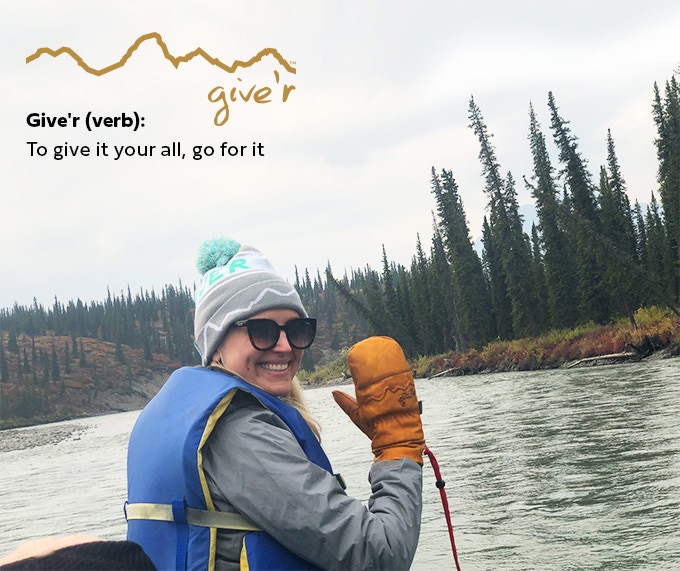 Gloves provide the dexterity you need for fine-motor tasks and are certainly an essential piece of gear. But when temperatures drop to extremes and staying warm becomes your first priority, you can count on the Give'r Frontier Mittens.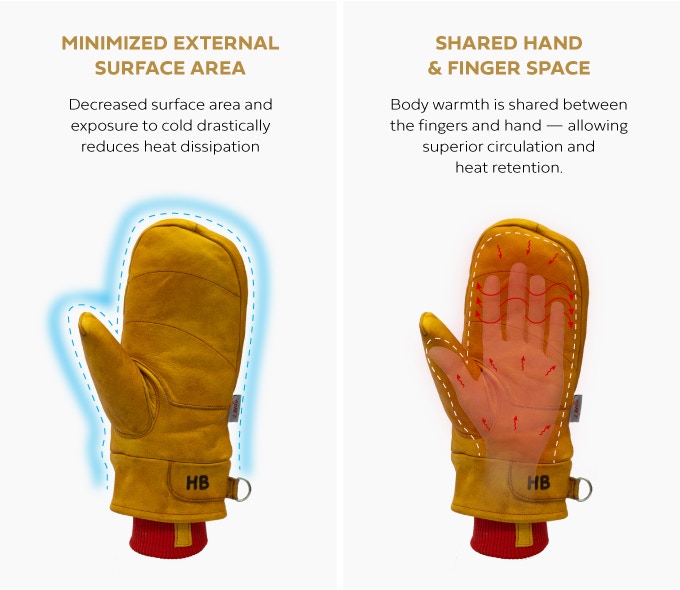 Because the spaces between your fingers aren't exposed to the cold as they would with gloves, the Frontier Mittens drastically decrease the amount of heat dissipated out from your body. The minimized external surface area decreases your body's exposure to cold and, therefore, retains more warmth in your fingers and hands.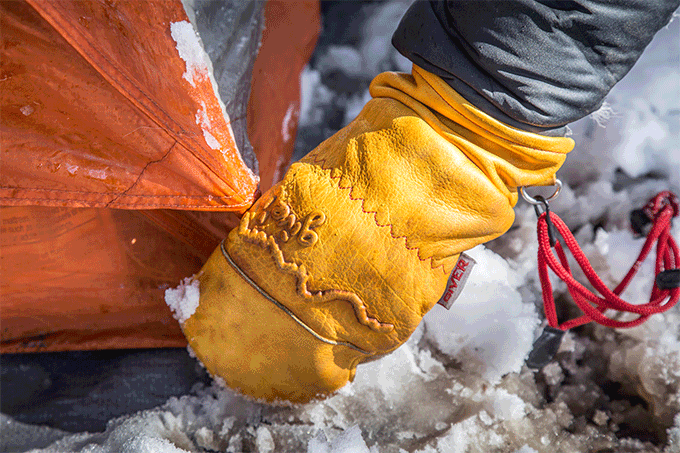 The Frontier Mittens also keep your fingers together so they can share body warmth.This allows the inside of the mitten to work a bit like a furnace. Your fingers and hands circulate heat to each other while the mittens keep it all in, letting your body retain its optimal functional temperature with less effort.

Give'r tested the Frontier Mittens in the most extreme conditions so you don't have to. They've given their seal of approval for temperatures ranging from -40°F to 400°F. So no matter the situation, these puppies have got you covered.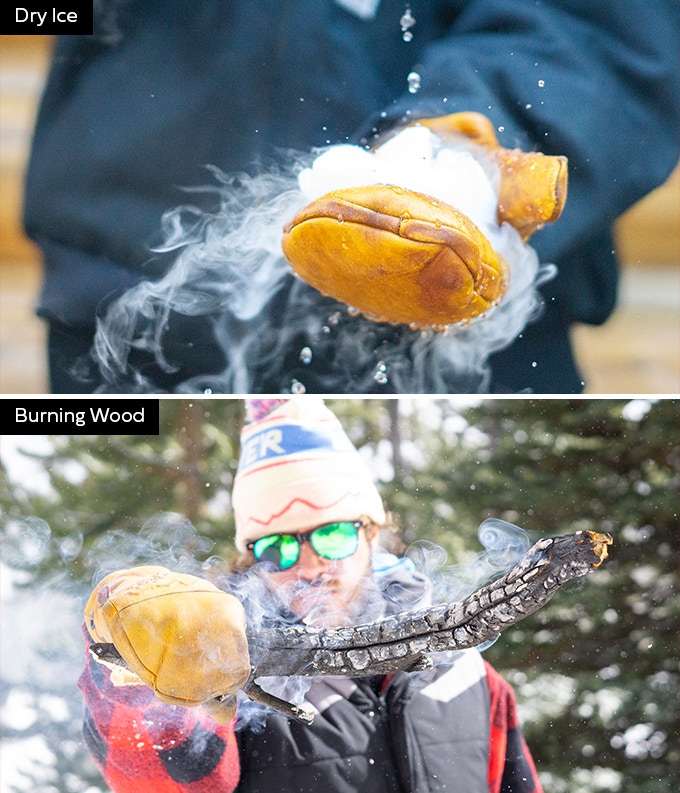 Forged in the valley of Jackson Hole, Wyoming, home of the iconic Teton Mountain Range, the Frontier Mittens have come face to palm with snow, rain, wind, hail, dirt, frost, mud, sleet, ice, fire and also a fair amount of time under the sun. They've handled granite, steel, concrete and rebar and have come out strong and unbroken. Tested to the extremes? Check.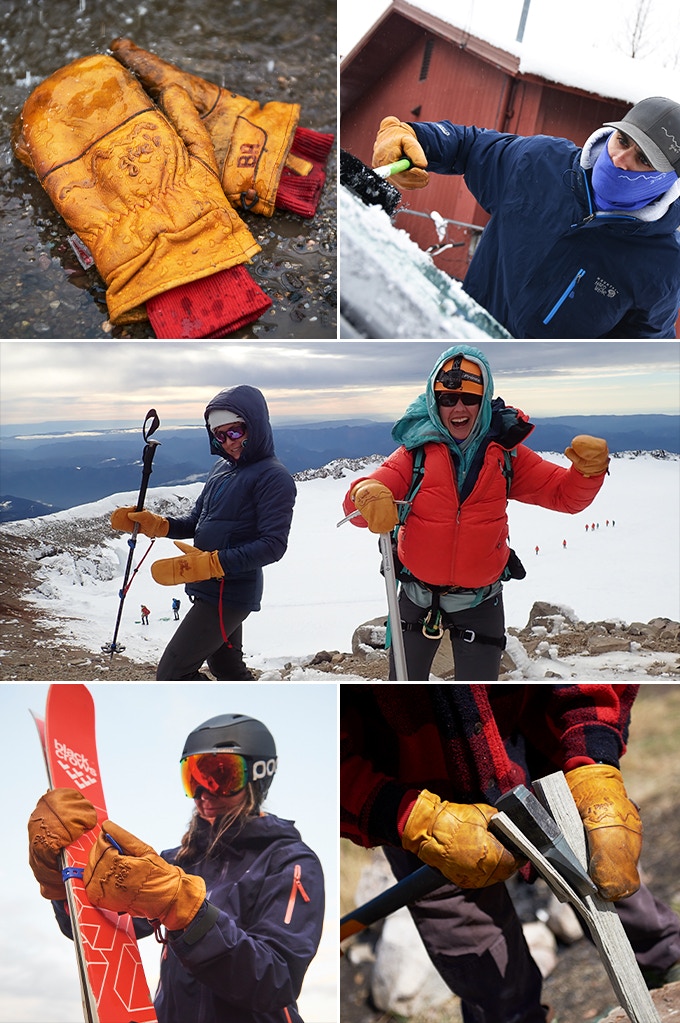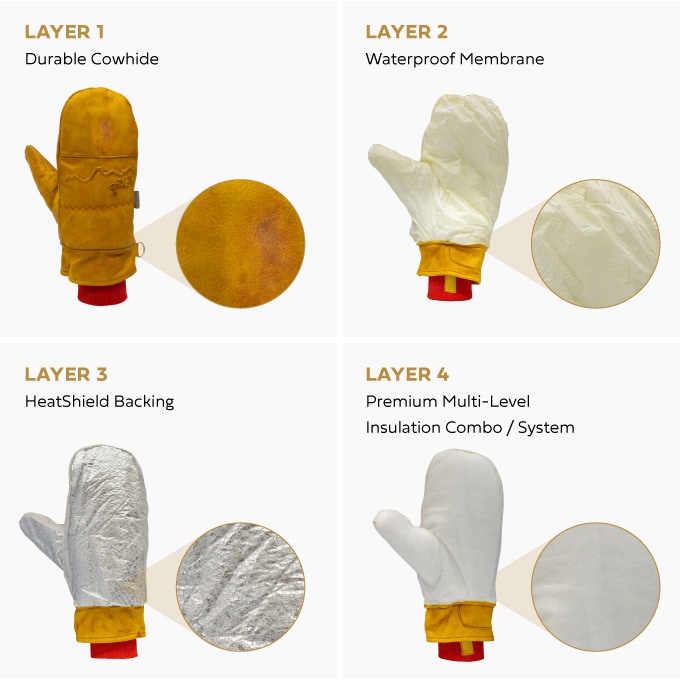 Each level of the insulation system was thoroughly tested and selected to work togetherand ensure insane warmth that feels AMAZING.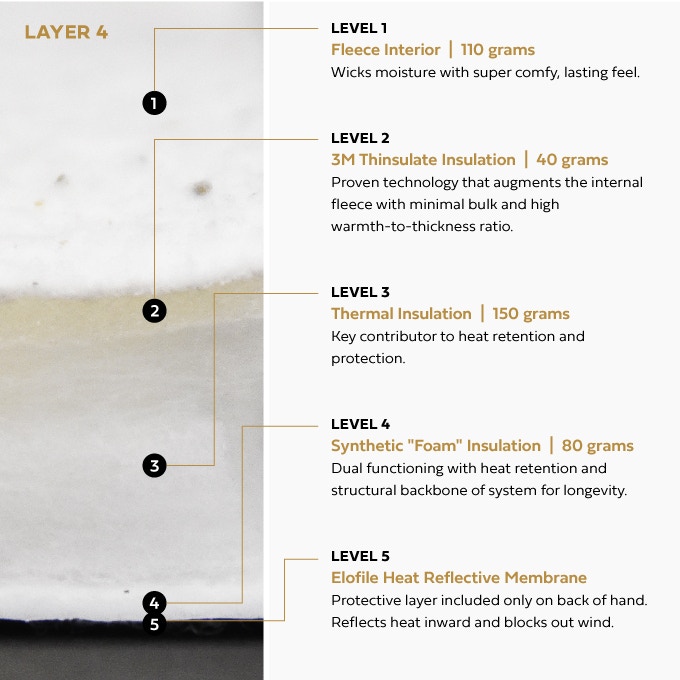 When it comes to design, warmth, protection and your hands…we give a FIT!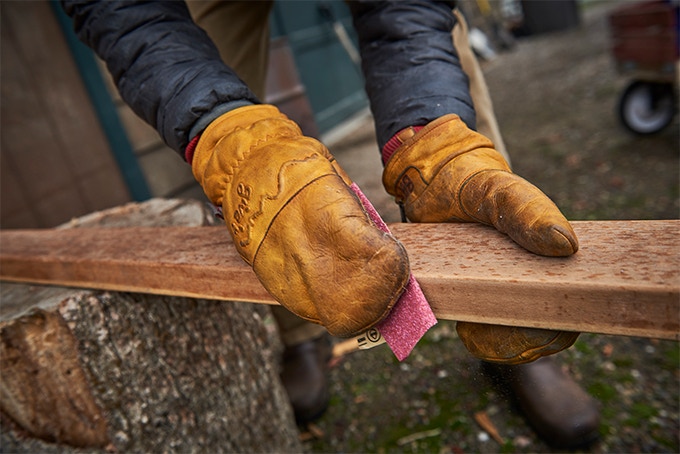 The Frontier Mitten design ensures you get the perfect fit. As they're worn, your hands and fingers gradually form, shape and settle the insulation system, resulting in a mitten that molds to your hands. The outcome — an unparalleled, custom-made fit that gets better the more you wear them, just like your favorite baseball mitt growing up.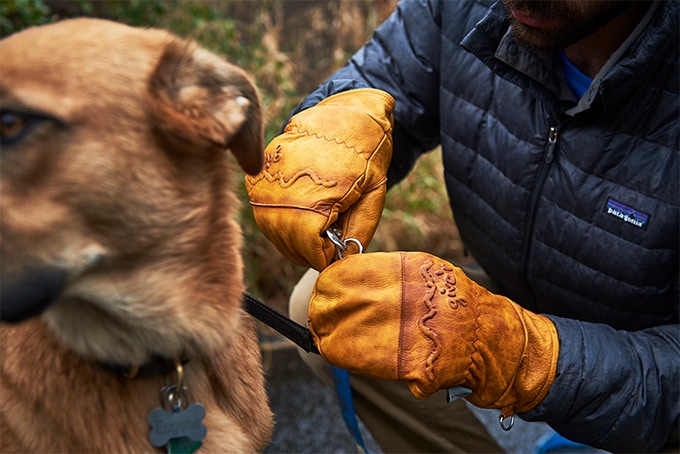 The core of Give'r glove/mitten design since the beginning, we believe things should get better with time and use, and should last a lifetime.
Between leather shell and insulation layering system lies the Hipora Membrane – ensuring your mittens are 100% waterproof. This technology is proven to keep water out while remaining breathable for water vapor to escape.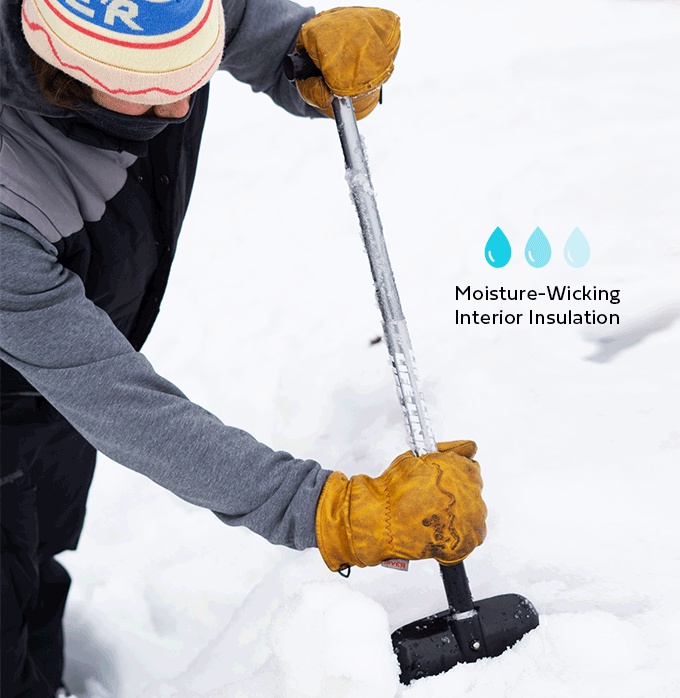 The technology of the layer utilizes microscopic perforations in the membrane that are small enough to keep water in liquid form out, but large enough to allow water vapor and sweat to escape.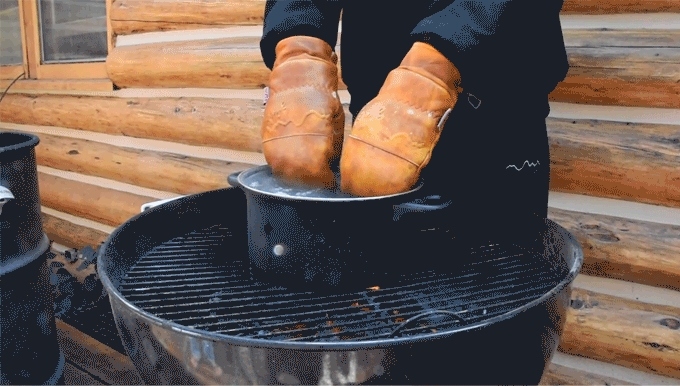 See it and believe it — we've put them to the waterproof test, so you can be confident to Give'r!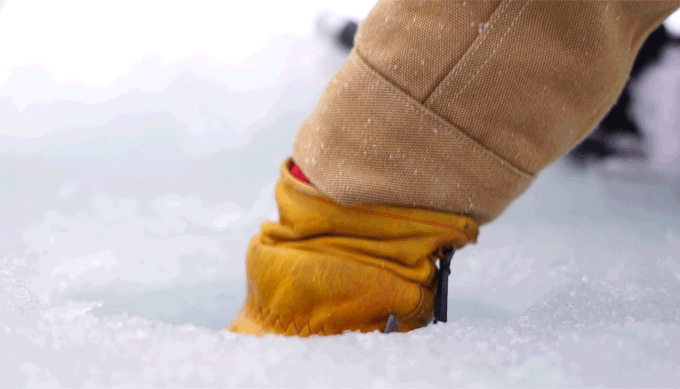 If you want, we can also bake & hand-wax your Frontier Mittens with an all-natural beeswax. This naturally "bomb-proofs" your mittens —increasing leather longevity, retaining natural moisture content and enhancing weatherproofing.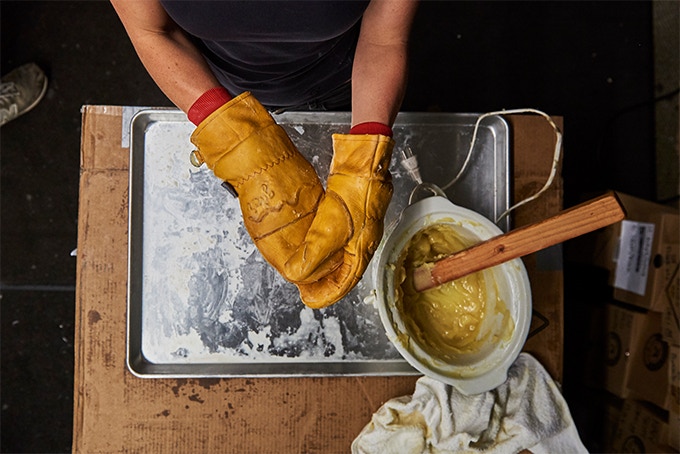 Bonus: the bombproofing ensures they'll arrive at your doorstep looking rugged and bad ass!

The exterior of each pair of mittens is made solely with 100% premium Grade-A cowhide leather, which runs circles around its synthetic brethren.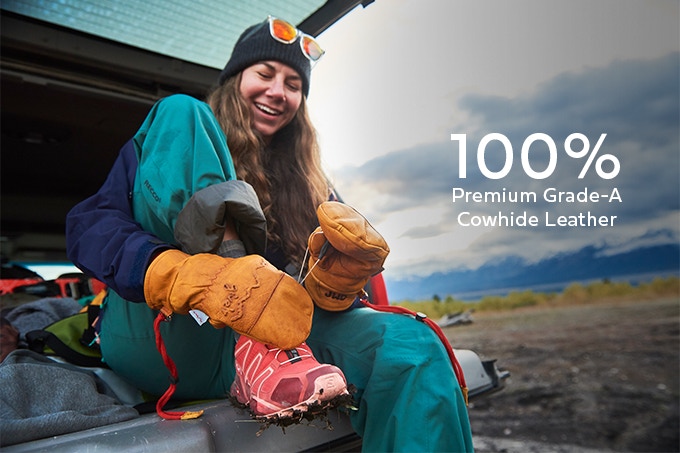 Leather is far superior with grip than any other materials or hybrids. We've tested the Frontier Mittens when wet and cold and put them to the grind with a huge range of materials. These mittens will put an end to having plastics, metals, woods or your ski poles slip through your hands when you're given'r!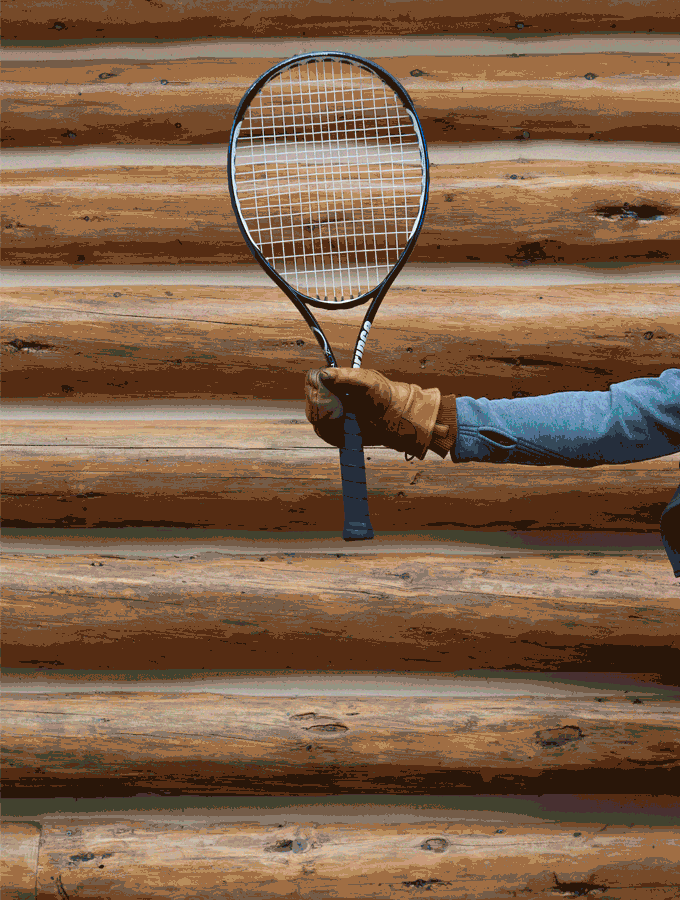 In addition, we tested out multiple "thumb styles" to ensure you get the absolute best grip. We opted for the Keystone Style Thumb to give you maximum grip capability and comfort with fit and function.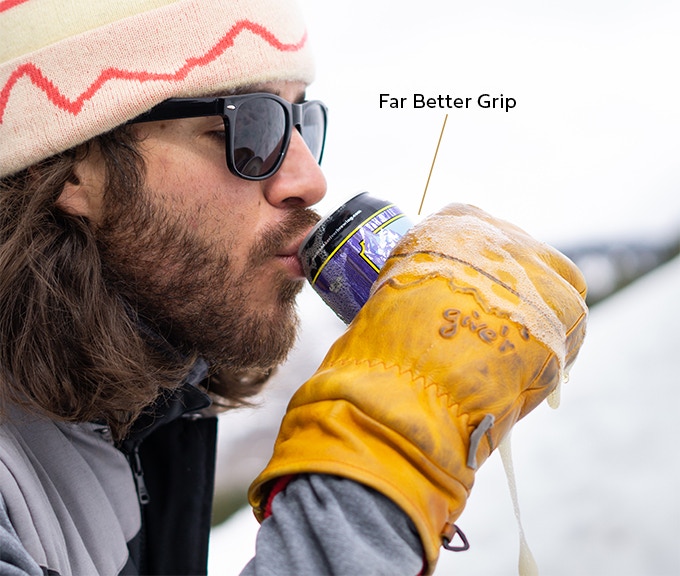 The Frontier Mittens will outlast any pair of mittens you've had to date. Durability and longevity are at the core of the design. We've sewn on additional leather reinforcement patches in areas that experience high abrasion – such as the palm, fingertips and thumbs.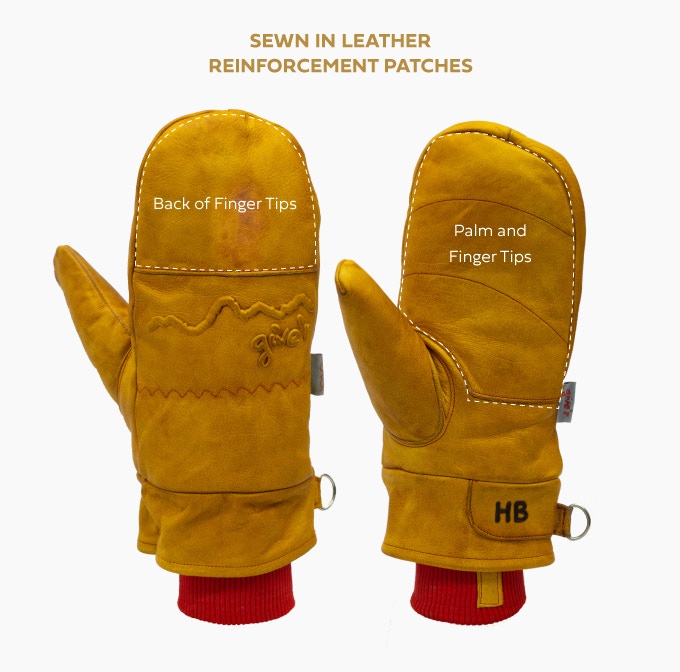 Our team believes in making products that will last — we don't cut corners to ensure you'll have the Frontier Mittens for years to come and, perhaps (if you're feeling generous), pass 'em on to your grandchildren. Put these bad boys through hell – they'll come back ready for more.

The premium cow leather exterior enables an incredible functional temperature range. The Frontier Mitten can survive not just through extreme cold but also extreme heat.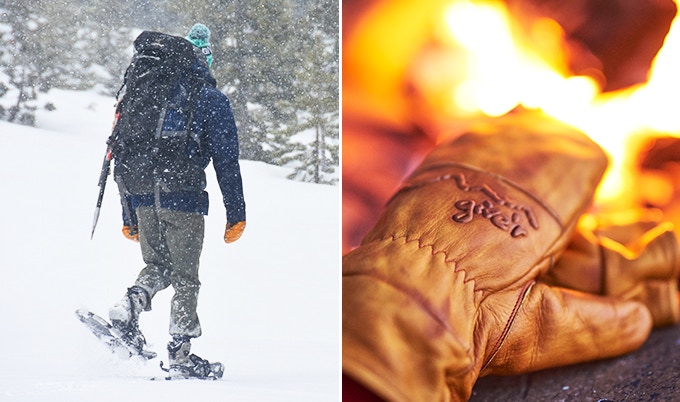 In fact, where most synthetic mittens melt at high temperatures, the Frontier Mitten can handle the heat! They've been tested to temperatures up to 400°F.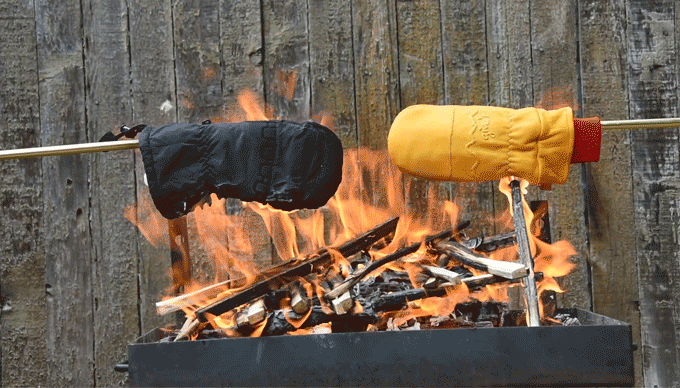 From icy waters to burning coals — the Frontier Mittens have been tested so YOU can give'r with confidence.
Cow leather is well known for its long lifespan and durability. In fact, our prototypes have lasted 3x longer or more than any synthetic mitten alternatives. Complementing the insulation, as the Frontier Mittens mature, the leather shapes and forms a memory for your hands while developing a beautiful patina.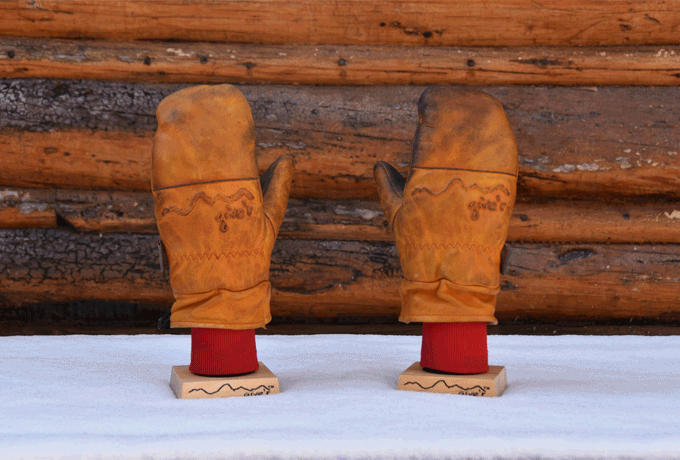 These are mittens you can pass down through generations. Break 'em in, beat 'em up, and let the leather tell your story.


We included an elastic cuff and leather skirt to keep warmth in and snow and ice out. The leather pull tab on the cuff makes it easy to put on and take off the mittens without damaging them.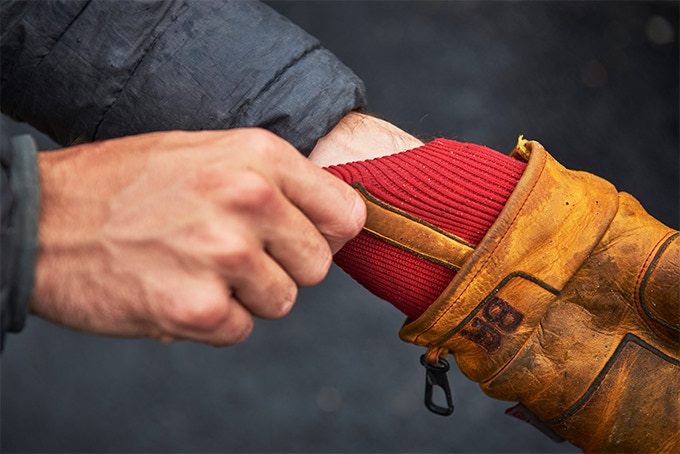 Don't lose these beauties off the chair lift or end up with a single mitten, the steel D-Ring is clutch for safe-keeping! Attach a leash, pair 'em together or clip to your pack with confidence. The clip is placed strategically to prevent damage and provide maximum utility.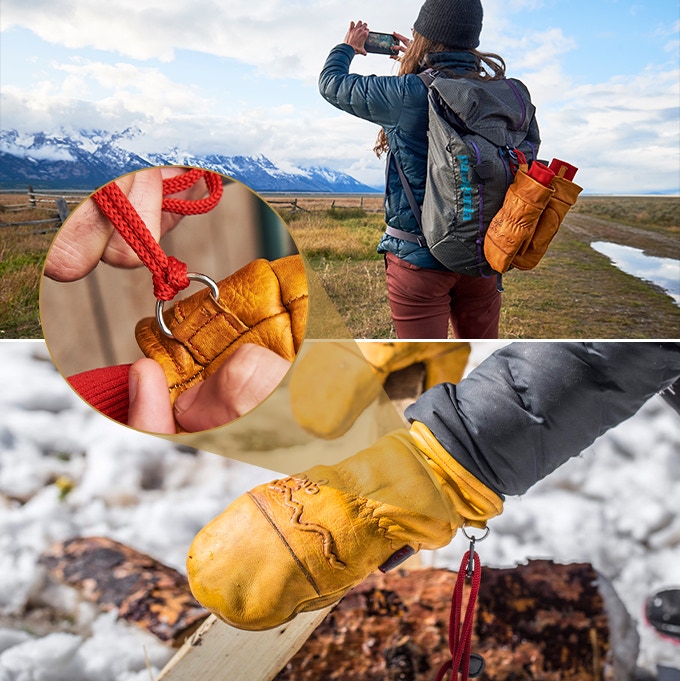 You have the choice to get your Frontier Mittens hand-waxed with natural beeswax. Each mitten will be personally treated and baked by us. Give your pair a look that is as tough as the mittens themselves.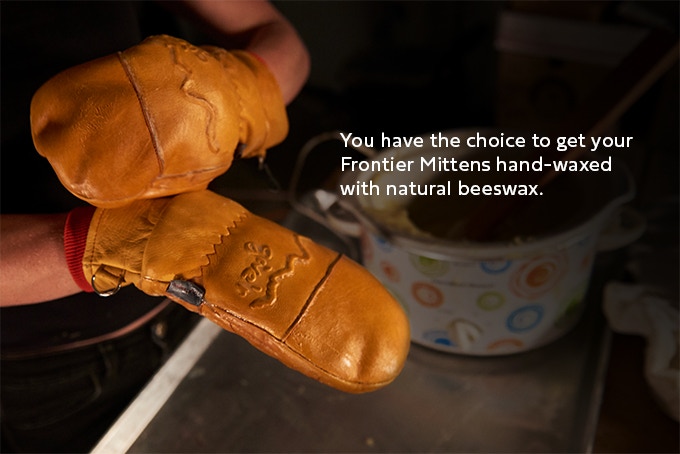 The hand-waxing enhances the leather's durability and performancewhile increasing the outer leather layer weatherproofing.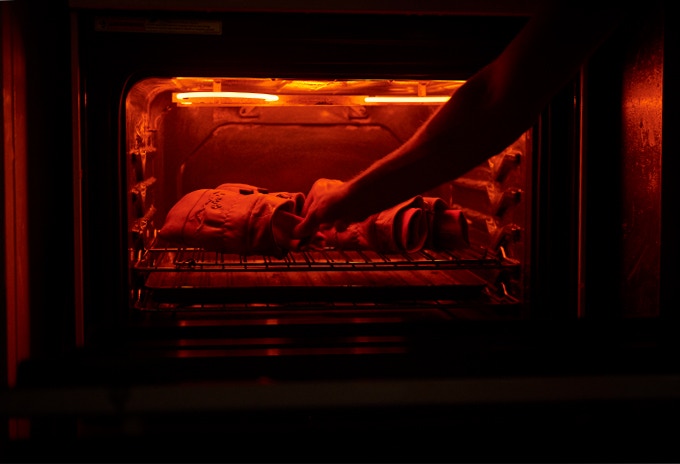 In essence, "bomb-proofing" these beasts so you can give'r proper!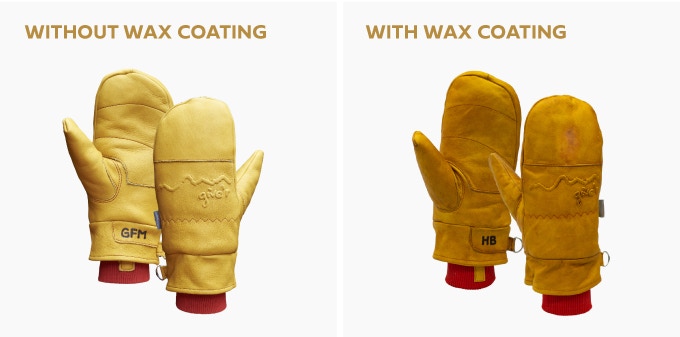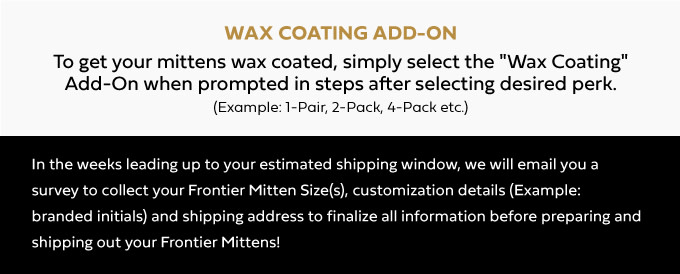 Claim your mittens as your own! In proper western fashion, we take great pride in our workmanship, attention to detailand ability to hand brand your initials on each of your mittens.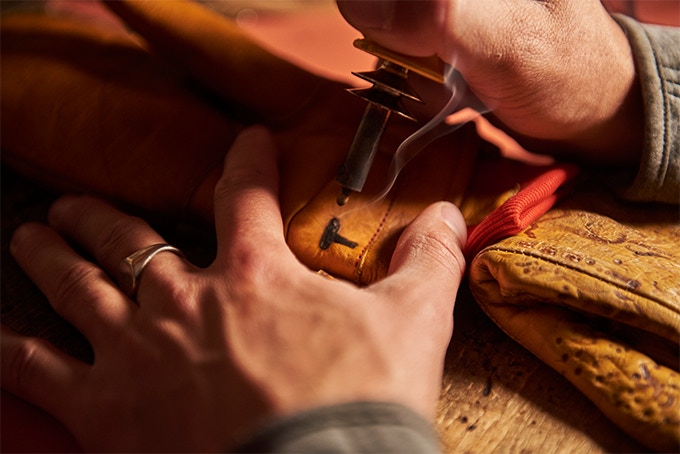 This customization is the real deal and will make sure everyone knows these are YOUR mittens — ensuring you don't lose 'em or have them running off in your buddies or kids' gear bag.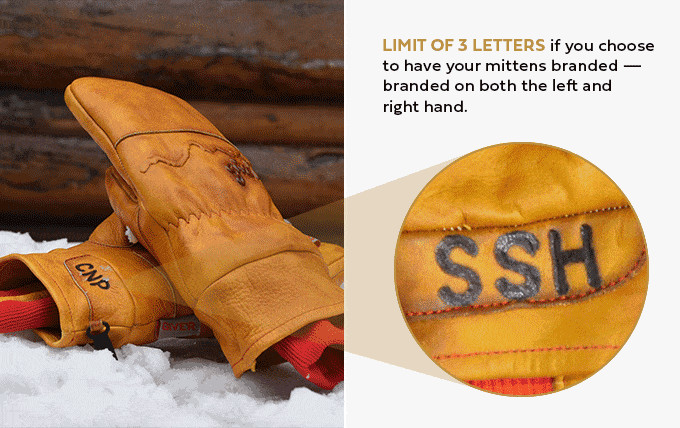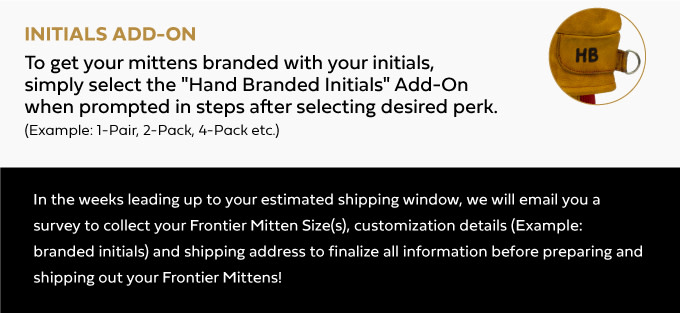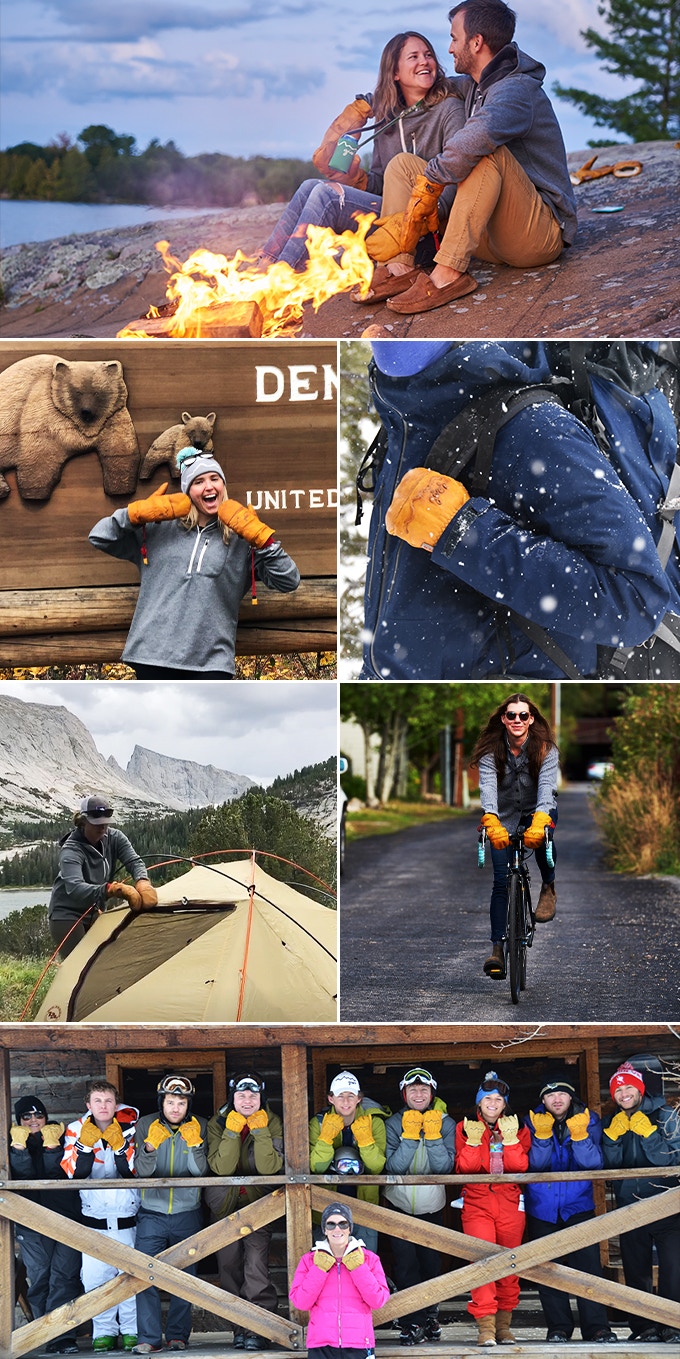 Don't let the cold, or fear of cold, prevent you from experiencing life and doing what you love. Whether you're skiing or boarding your favorite hill, walking your dog, relaxing on the chair lift, out on the boat with your crew, riding your sled through the "white room", or ice fishin' at your favorite spot, the Give'r Frontier MIttens will make sure your hands stay dry and warm, so you can give'r all you got and soak in the good stuff!

When you select to support our campaign, you can choose the reward tier that best suits you.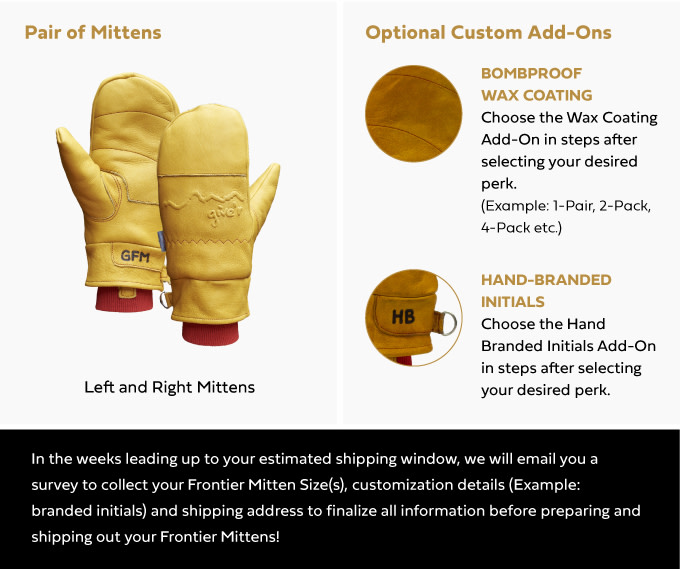 Note that any tier with Frontier Mittens (as a single unit, 2-Pack, etc.) as a reward will be produced and shipped to you within the stated timeline of that tier.
The details of the sizing selection, add-ons of the wax coating and initial branding will be communicated following the completion of the campaign.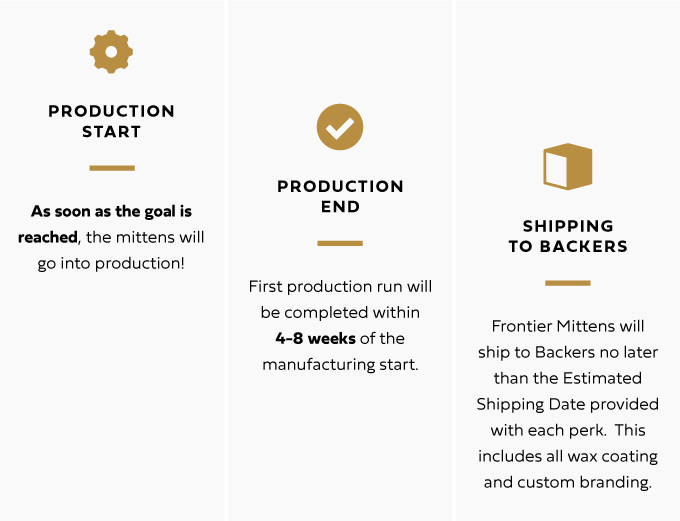 We have been working on the Frontier Mitten concept for years, with an intense focus on prototype testing & iteration these last 18 months. We've been working with all supply chain partners for 4+ years, and they're as stoked as we are. We have put a lot of thought into these beauties and what is needed to execute on the production, shipment, and game plan to get into backers' hands ASAP with winter knocking on the door. We have run the spreadsheets, readied our waxing and branding muscles, and ensured that all is in place to GIVE'R once our goal is reached!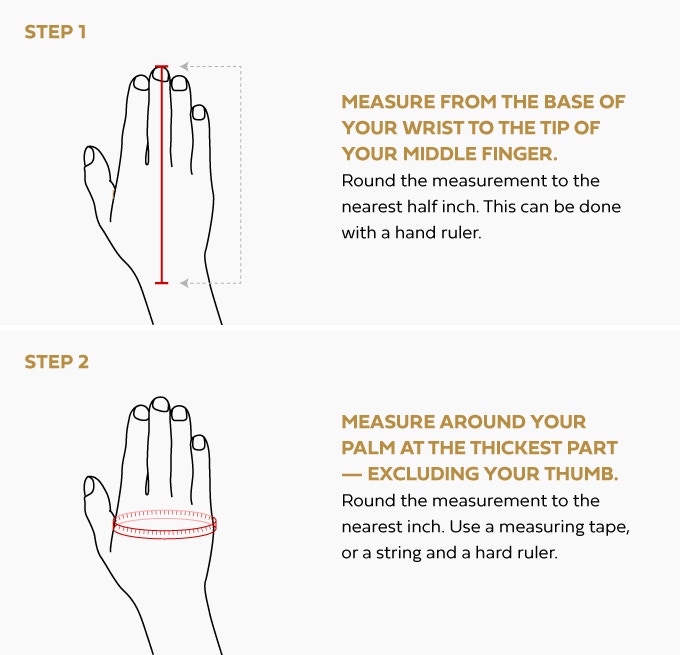 Use the Wrist to Middle Finger Tip measurement and find the Palm Circumference intersection on the sizing table. This is your size!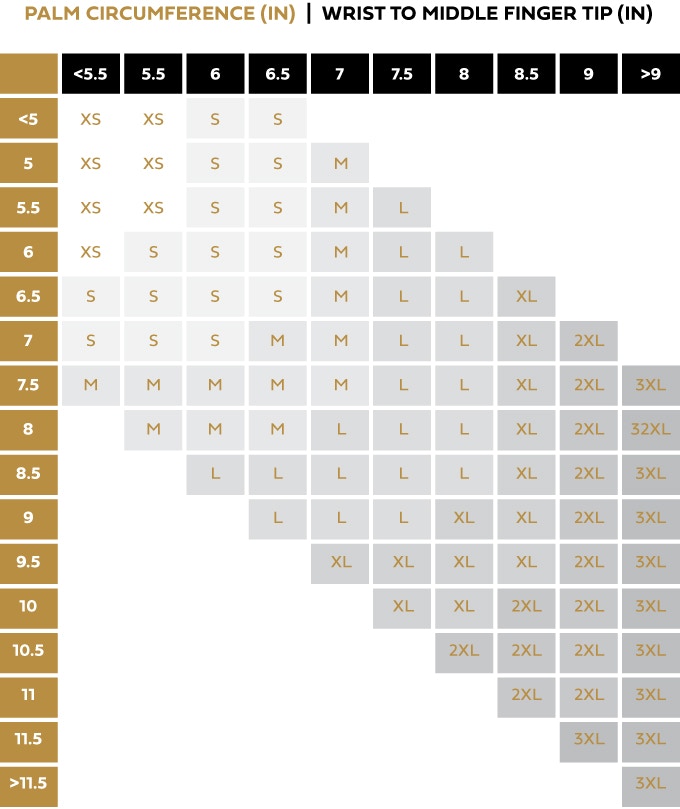 If you're measuring in centimeters, use this chart! to find your size.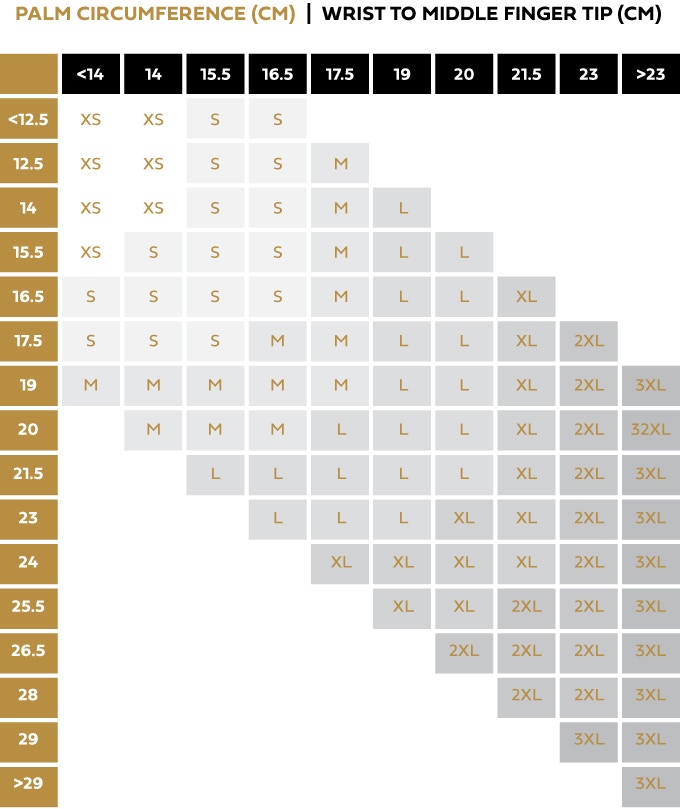 This Wrist to Middle Finger Tip measurement is the best indicator of your size and should guide your selection. Not all hands are the same size and if you're deciding between sizes, we recommend sizing up.
It all began in 2011 with the design and creation of custom hats commemorating an epic annual kayaking expedition in Ontario, Canada. These hats, featuring the skyline of the Tetons and the colloquial phrase "give'r", were the seed from which Give'r was born. This team, with help from an awesome and ever-growing community, gave life to a philosophy and lifestyle that is perfectly embodied by everything we make – especially the Frontier Mittens.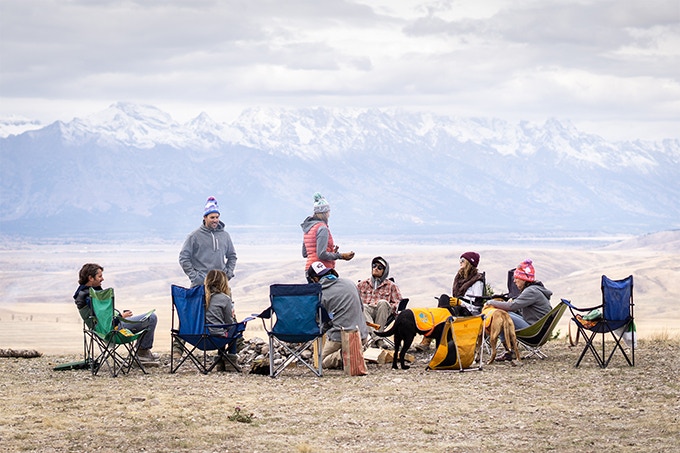 Our product line began with two t-shirts, two hats and a commitment to our customers that we'd stop at nothing to ensure they were stoked (not just satisfied) with their Give'r Gear. Our dream has come to life through 7+ years of working multiple jobs, taking challenges head-on, continuously learning, receiving a tremendous amount of help, and our belief that the world is a better place with Give'r in it.
We strongly believe in giving back through service and financial support, and have worked with dozens of local, regional, national and international non-profits since our inception. We believe in forming community by working with local businesses and connecting our customers from across the globe. We are proud members of 1% for the Planet and 1% for the Tetons, and are committed to playing an active role in making the world a better place for generations to come.

Our goal is to bring to life the Give'r that lives within us all. Straightforward, fun, comfortable apparel and accessories were at our core on day one, and we have built upon this foundation over the last 7 years. Your support enables our team to be fully dedicated to Give'r while maintaining control of our mission and the ability to take risks that may not be possible through traditional fundraising means.
We invite you to join us in continuously appreciating life and celebrating the journey. When life asks you to dance, we urge you to give'r.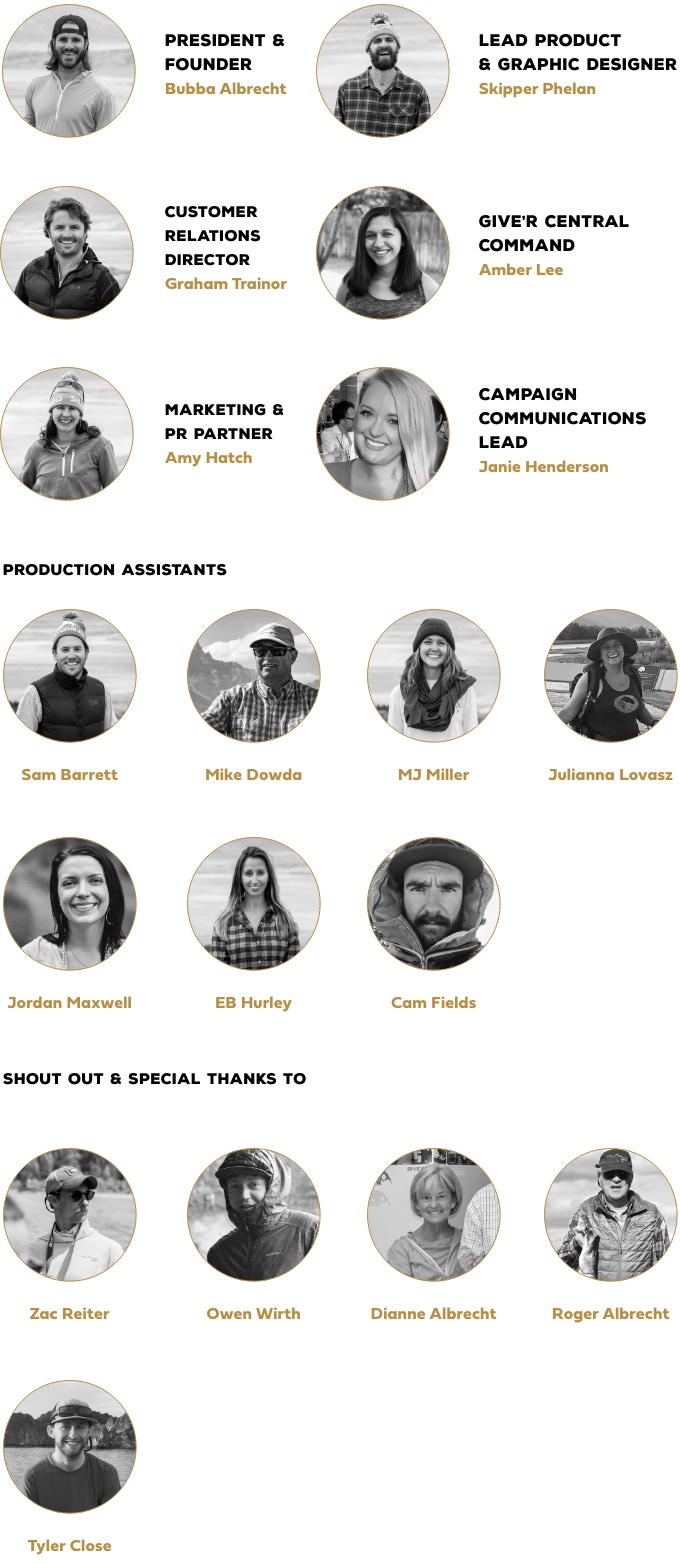 Related posts